Welcome to Staffer Spotlight, a thrEDIT original series featuring real-life thredUP employees. This edition features Michelle Singleton, Senior Merchandiser at thredUP. Our team of Merchandising Managers report to Michelle, and each of those managers also have a team of Merchandising Coordinators. Michelle is a major #girlboss who has been working at thredUP for three years, and in a nutshell, her job is to make sure we're buying the right stuff from our awesome sellers. When we do that, our customers can UP their style games and slay every day. 
P.S. There's a chance to win $100 to shop hidden somewhere in this blog post! Happy hunting.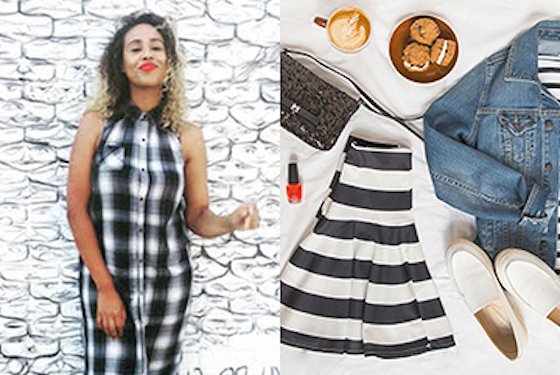 1. What is the first thing you ever bought from thredUP?
A pair of silver metallic cut out oxfords (with silver stud details) by Sam Edelman. They were under $30 and totally my style. I gave them a lot of love and wish I could find another pair! (Safe to say I keep my eyes peeled on thredUP for the same pair. It could happen!)
2. What's the best thing you ever bought on thredUP?
Hands down. My black leather moto jacket by Markoo. A wardrobe staple that I was so happy to take home! A boutique out of New York sent in their backstock to Clean Out with us. This jacket retailed for $895. I purchased for $240!
3. What's your favorite thing about getting a thredUP order?
I love how the clothing is neatly folded and placed in the box. You can see the attention and care the thredUP team puts into packing every single order. It's feels like uncovering gems when you unfold each piece. I purposely order five or more items at a time because I don't want the unveiling to end! Seeing our adorable hangtags looped onto the clothing tags also make me smile.
4. How do you shop on thredUP? 
Here are my steps to shopping like a badass on thredUP. Ready? 1. New Arrivals (to stay current), 2. My Sizes (because it's unique to me), and our handy dandy 3. Search (because I can be specific and find exactly what I'm looking for). I'm not one for limiting myself to a selection of brands because I get excited discovering new ones! When I peruse the site, I think style first and brand second. That said, the fit of jeans can be hard, so I tend to stick to the brands l know. I love to keep my options open otherwise.
5. What are your favorite things to buy secondhand?
Jeans and leather goods (shoes/handbags) are my favorite things to buy secondhand. Quality jeans will hold their shape and flatter forever! Any time I need or want a new pair of designer denim I think thredUP first (#secondhandfirst!) because of quality and value. A lot of designer denim falls between $30-$60 on our site!
Most genuine leather out there is great quality too. You can count on it to hold it structure and form. I've been using the same leather tote from thredUP for work every day for two years! I never thought it would have last this long but it's a trooper.
6. Why do you think #secondhandfirst?
After working in resale the last few years, it has changed my perspective on what it means to buy used clothing. To be honest, I used to be shy away from it. I've learned to love shopping secondhand because the idea of not knowing what you're going to get when you shop is exciting! Now I find that when I go to shop for brand new clothing, I tell myself , "I can probably find something similar on thredUP for a better price." I've purchased so many shoes that have never been worn. It's a win-win!
Individuality is something that I value and I know I can attain my individual style by shopping thredUP. We have something for everyone and everything is one of a kind! I love discovering interesting pieces that will make a style statement.
7. What is your "save on, splurge on" philosophy?
Splurge on quality made clothing and accessories. Save on drinks by going to happy hour!
8. New-to-you shoes or a new-to-you bag?  
New shoes. I love adorning my feet with different styles of shoes. It makes me feel even more confident and empowered when I have chic and comfy shoes on.
Leave a comment here with your favorite thredUP find of all time. On February 1, 2017, we'll pick one commenter to win $100 to shop thredUP.